Posted by Jere Bradwell on 12th Jun 2020
Among modern finishing materials, it is easy to choose the most unusual solutions for creating an exclusive interior, in particular, wallpaper with concrete effect.
This type of finish is becoming increasingly popular among industrial style fans, but the austere and cold appearance of the concrete surface can fit into a much larger number of design options. Even if the apartment does not have an open concrete or brick wall, it is quite easy to create an imitation of them by choosing the appropriate wallpaper. The texture on them looks as realistic as possible, adding light negligence to the interior; a rich palette of gray shades allows you to show imagination and serves as a wonderful background for future decor. Among the many colors and options of concrete on such wallpapers, it is easy to choose a suitable finish for the living room, dining room, kitchen and even bedroom, without worrying that the room will seem too cold or will have a non-residential look.
Many people associate bare concrete walls with unfinished construction, permanent repairs, and industrial areas. But it is worth getting rid of such a stereotype, because the correct use of concrete in the interior can emphasize the unique design of the room, add restraint, orderliness, nobility, delicacy to it.
Concrete will emphasize the strictness of minimalism, add depth to eclecticism, expressiveness to a classic or vintage style.
York Wallcoverings Antonina Vella Elegant Earth Concrete Patina Wallpapers
Like a colored chalk sidewalk drawing after a rain, this nebulous design defies identification but is dreamy and desirable.
This is Concrete Patina Wallpaper.
Specifications of using concrete finishes
Wallpaper with concrete effect can be purchased for any room, regardless of its purpose, but it is important to carefully consider the design so that the result does not cause discomfort. It is appropriate to use bright or rich color accents that contrast favorably with the gray hue of concrete walls: red, chocolate, white, black, purple, green, bright pink, etc.
Wallpaper with a concrete effect combines perfectly with elements of decoration made of natural wood, glass, metal, as well as all kinds of textiles, giving the atmosphere a special contrast and depth.
When choosing a wallpaper, you should follow the following recommendations:
The rougher the texture of concrete on the wallpaper, the more elegant the furniture should be. In the interior, noble fabrics (silk, velvet), mirrors, bright colors should be used to maximize the contrast.
Wallpaper with imitation of smooth concrete will be a great backdrop for leather furniture, decor items made of metal, glass. A successful design move will be a carpet, the color and length of the pile of which match the shade and texture of concrete on the wallpaper as much as possible.
The cold shade on the wallpaper needs to be balanced with warm colors in the environment, for example, with the gray color successfully harmonize caramel, chocolate, copper, coral, bronze, mint, lemon, blue colors.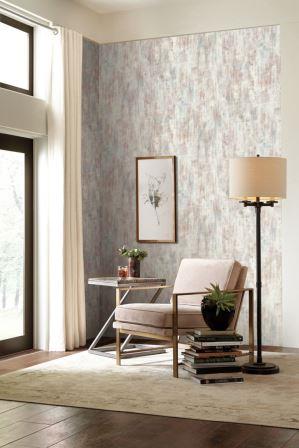 Which style is better?
Concrete Wallpaper is best suited for interiors in the following styles:
Loft or industrial style.
Concrete wallpaper will be an excellent background for vintage furniture, industrial lightning; an open layout and plenty of light will make the room comfortable and bright even with an excess of gray tones.
Minimalism.
An unexpressed texture and a discreet palette of concrete wallpaper emphasize the strict geometry of the furniture and harmoniously complement the basic colors used in the decoration (white, black, beige). Large mirrors in metal frames and multi-level light will give this interior its own individuality.
Modern.
Walls with concrete texture will become a good background for bright pieces of furniture and fancy shapes, emphasizing their individual style without cluttering up the space. Glossy surfaces, glass and metal, an abundance of color and all kinds of textures are in perfect harmony with plain smooth concrete walls.
Eclecticism.
Elegant antique furniture, carved natural wood facades, wrought iron elements, crystal chandeliers, mirrors and paintings in carved frames, velvet or chiffon curtains with heavy brushes will look even more elegant, original and noble against the "concrete" walls.
Variations using such material are appropriate for design in the styles of vintage, classic, neoclassical, where wall decoration under rough concrete can become a beautiful, even noble background for elegant furniture, and the textured contrast favorably emphasizes the features of the interior.