Posted by Jere Bradwell on 6th Jul 2020
Drawings on the walls were made long before our era. After hundreds of years, cave paintings make the "interior" of the caves not only attractive, but also unique.
Nothing has changed. Successfully selected, and properly executed, wall painting will help transform the room. The simplest solution in this case is a stencil drawing or wallpaper with imitation of a painting.
Such a pattern on the wallpaper will help to hide the flaws of the layout or, conversely, draw attention to the advantages.
Very attractive look drawings in watercolor or gouache. There is even a feeling that only a couple of moments ago the artist's brush passed over them, and they are not yet dry.
You can choose a print with large details or give preference to romantic airy patterns with small details, which are not very evident. This is the most wonderful and spectacular way to decorate apartments.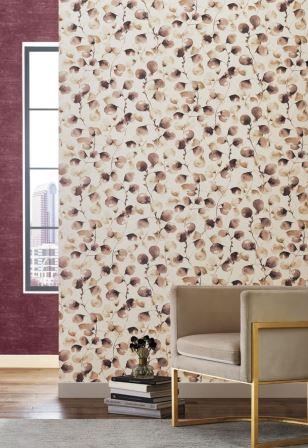 York Wallcoverings OG0588-OG0593 Antonina Vella Elegant Earth Eucalyptus Trail Wallpaper
To some these plants are a spiritual symbol, and certain types have a distinctive fragrance. On Eucalyptus Trail Wallpaper the leaves are simply beautifully colored on a white field.
Available in Green, Black, Gray, Rust, Mulberry, Blue
The theme of flowers and leaves looks sophisticated and exquisite in such a design.
The pattern by type of print will look unusual and modern - as if a palm leaf was wet in paint and left such a print on your wall. This is especially noticeable in textured wallpaper.
York Wallcoverings OG0580-OG0584 Antonina Vella Elegant Earth Native Leaves Wallpaper
Large tropical leaves form a peaceful screen of foliage in a vertical pattern that has the calming influence of a natural forested setting; this is Native Leaves Wallpaper.
Available in Black, Navy, Gray, Blue, Cream
York Wallcoverings OG0604-OG0608 Antonina Vella Elegant Earth Bamboo Grove Wallpaper
The delicately fiberous paper looks handmade, while the sculpted ink provides incomparable texture and pattern; this is large scale Bamboo Grove Wallpaper.