Posted by Jere Bradwell on 10th Mar 2020
A collection combining the purity of clean lines with simple heritage patterns for inviting modern style that beckons us home.
Simply Farmhouse is styled for those with discerning taste who want the modern look of Farmhouse style products at a reasonable price.
York Wallcoverings FH4036-FH4038 Creeping Fig Vine Wallpaper
York Wallcoverings FH4086-FH4089 Heritage Rose Wallpaper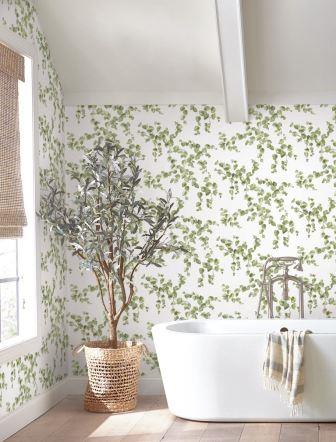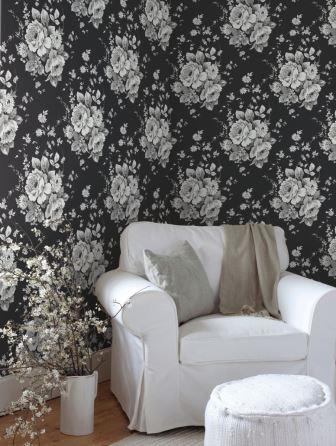 Fashion trends in interior design do not cease to amaze, but floral motifs have always been, are and will be in trend. As for the floral wallpaper, their range is so wide that sometimes not everyone can immediately determine the best option for their room. And here you need to clearly understand what effect you want to achieve, as well as to understand the nuances of the effect of a floral pattern on the perception of space.
The floral ornament attracts attention, therefore it is easy to create spectacular accents if you want to distract attention from surface defects, give comfort or emphasize the refined style of the house.
Wallpaper with flowers is guaranteed to be suitable for any interior, but in the hands of an unknowing person even such a beautiful product as floral wallpaper can turn into an element of bad taste, so you need to select very competently not only materials for interior decoration, but also furniture and accessories. To do this, you can use some recommendations of experienced professionals.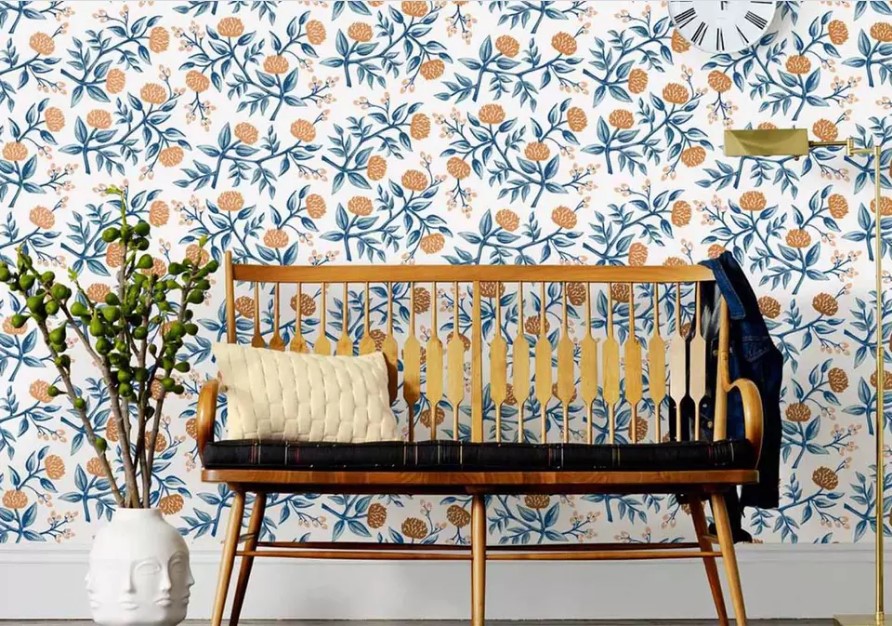 Image from thespruce.com
What is important to consider in the design of walls with floral wallpaper?
Experts advise you to follow a few simple rules:
1) correctly select the size of the picture.
Undoubtedly, large flowers are a luxurious design element, but not in a cramped room. In a small room it is better to use the canvas in a small flower;
2) maintain a balance between simple and catchy interior details.
So, if wallpaper with flowers is a bright element in the room, other components should not attract attention. And vice versa, neutral wallpapers harmoniously complement several catchy accessories or bright textiles;
3) adhere to consonant shades.
It is important to observe the color balance both on the wallpaper and in the interior. Here you need to subtly feel the line between an attractive spectacular combination and an obsessive bad taste.
4) take into account the interior stylist.
Small and light prints suggest colorful rustic and ancient styles, while large and bright prints are more suitable for modern interiors.
Floral wallpaper can be combined with other varieties of coatings. In this case, the latter should be as simple as possible or with a pattern that will not argue with floral motifs.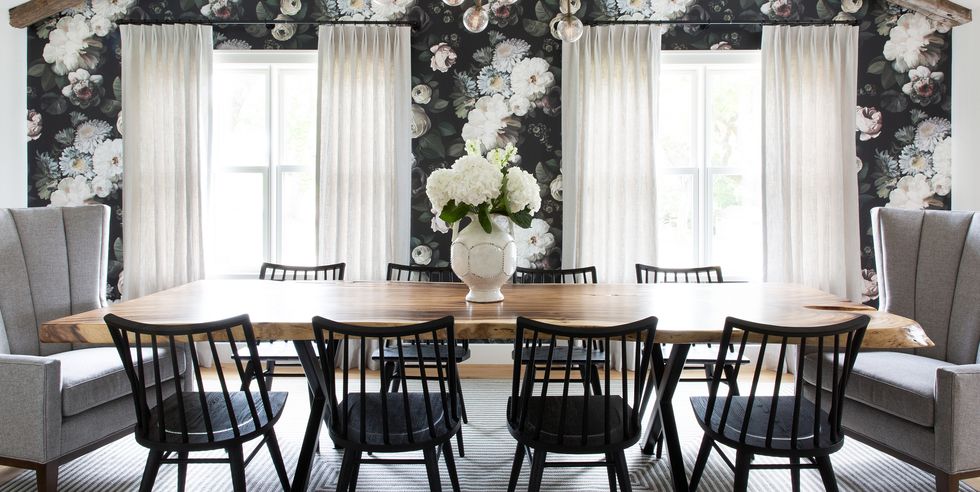 Image from elledecor.com
Decor and furniture for a room decorated with floral wallpaper.
When the wallpaper has already taken its place of honor on the wall, it's time to arrange furniture and decorate the room and windows. We suggest not to dwell on the wallpaper and repeat the floral print you like on other details of the decor. So, for example, order upholstery in a flower or curtains with a floral theme. On the walls you can hang pictures of flowers and put statues of plants on the shelves. You can decorate the phytowall opposite the floral wallpaper, creating a real oasis of harmony and comfort in your home.
Image from realhomes.com