Posted by Jere Bradwell on 14th Mar 2020
A collection combining the purity of clean lines with simple heritage patterns for inviting modern style that beckons us home.
Simply Farmhouse is styled for those with discerning taste who want the modern look of Farmhouse style products at a reasonable price.
York Wallcoverings FH4021-FH4024 Folksy Floral Wallpapers
York Wallcoverings FH4061-FH4064 Chokeberry Block Print Wallpapers
York Wallcoverings FH4066-FH4071 Paisley On Calico Wallpapers
New trends periodically appear in the design, but the fashion for floral wallpaper in the interior does not pass. Variegated floral decoration remains in demand in many style decisions, however, experts are revising their recommendations so that the "well-forgotten old" looks stylish and modern. Flower pattern - an infinite number of variations embodied in textiles and wallpapers.
Each plant has its own subconscious associations, the type of image and the size of the pattern affects the perception of space.
Before choosing a floral wallpaper, think about the meaning of the flower depicted on them. Each flower has its own characteristics, and the room is literally overflowing with its energy.
Able to give the surrounding interior softness and a romantic aura. Poppies look especially impressive on a white or dark background. In the language of flowers, poppies mean sleep and serenity. A print repeating their image will come in handy in the bedroom.
Almost everyone loves such a flower. It combines both tenderness and passion at the same time. It is a flower of love and friendship, each endows it with its own special meaning. Roses will look harmoniously in the women's room or living room. Scarlet roses are a favorite motive of designers creating kitchen interiors.
These flowers are peonies of grace and bliss. Most often, peonies choose to decorate the living room in an Asian style.
Simple wildflowers are a symbol of immediacy and spiritual purity. Such wallpapers should be used to design a children's room.
Purple irises soothe tired eyes and cast a halo of mystery. This flower is good for a bedroom or a room intended for relaxation.
This is an undoubted favorite of oriental style. Blooming buds can be the main accent that sets the tone for the entire decoration of the room.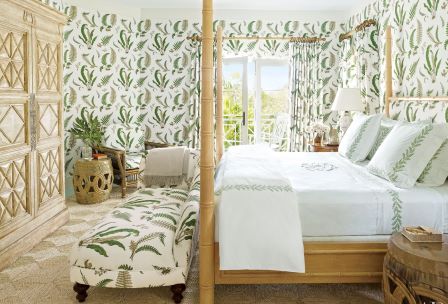 Image from architecturaldigest.com
There is an opinion that floral design is only suitable for a "female" interior. But this is not so, since ancient times were considered "male": sunflowers; gladiolus; dahlias; periwinkle; blooming onion arrows.
hese images have traditionally been used in the classic interior of the study, living room and studio apartment for single people. Moreover, they are present not only in the form of wallpaper, curtains and in the upholstery of the sofa, but also as a "living addition" in the vase. Male accent, in addition to such wallpaper with flowers in the interior, will help to give indoor plants such as "male happiness". Lotus and bamboo are widely used in the chambers of "lonely samurai", this is the Japanese style.
Umbrella and spikelet inflorescences, including lavender - a neutral pattern that has become the main sign of interiors in the spirit of Provence.
Typically "feminine" are roses, especially a delicate pink or apricot hue. However, the abstract or schematic outline, black and white outline sketches, where roses and lilies are not immediately guessed, distract from the "feminine" theme.
An accent wall at the head of the bed with a floral theme is a typical attribute of the conjugal bedroom, alluding to the romance of the relationship.
Image from architecturaldigest.com
Red petals are positive, this is a hint of love and passion, but an excess of this color is annoying, causing aggression.
Pink and lilac are traditionally chosen for the bedroom or nursery in girls. However, such a background with discreet colors is a great choice for a married bedroom.
Pastel is the best background with soft colors on the wallpaper in a classic interior imitating a tapestry. Milky, burgundy, brown and dark green tones form the basis of the gamut for a calm picture.
Yellow and orange color cause appetite, therefore, they often choose for the kitchen or decorating the dining area in the kitchen-living room.
For modern design, often use monochrome or black and white sketch of floral motifs. This will be appropriate even in an urban bedroom.