Posted by Jere Bradwell on 9th Apr 2020
Nothing can reflect the atmosphere of a tropical place more deeply than images of exotic foliage. On the textile or on the wallpaper in the interior, palm leaves and lush flora always look great. They look especially advantageous in the living room, hallway and dining room. Exotic plants can decorate wallpaper, textiles and accessories.
Green and yellowish shades saturate the space with energy and refresh it. At the same time, they create a calm and peaceful atmosphere.
Tropical motifs. Application Basics
Wallpaper with a tropical print, especially with large green leaves, changes the interior beneficially:
refreshes the room and fills it with pleasant coolness;
creates a summer cheerful mood in the room;
provides a relaxing atmosphere in the interior;
contributes to relaxation and peace.
Tropical wallpapers with palm leaves and any other greenery harmoniously fit into a room decorated in an eco-style.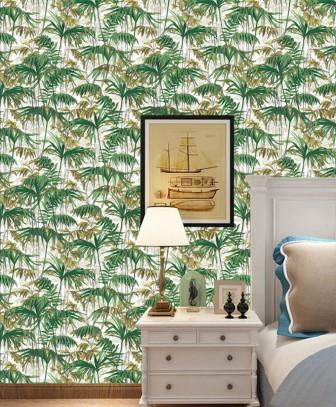 Grace & Gardenia GD210105 Tropic Palm Leaves Wallpaper

The great look of leafy green Palm Leaves in various shades of lustrous greens will bring the popular tropical theme to your decorating.
How to use tropical wallpaper?
Tropical greenery is a very active image. As a rule, you cannot decorate all the walls with such wallpaper at once, especially in a small room. Green wallpaper with foliage is suitable for decoration of one accent wall above the bed headboard, behind a sofa or opposite the entrance.
Perhaps only a bathroom is an exception. Here, with such wallpaper you can cover all the walls. So, a cozy bathroom will turn into a chic corner for relaxation.
If one or two walls are covered with wallpaper with a tropical pattern, the other surfaces should be decorated with light neutral colors. This will smooth out the catchy print.
A luxurious tropical print in the foyer on the walls is the right way to greet and surprise guests in an original way.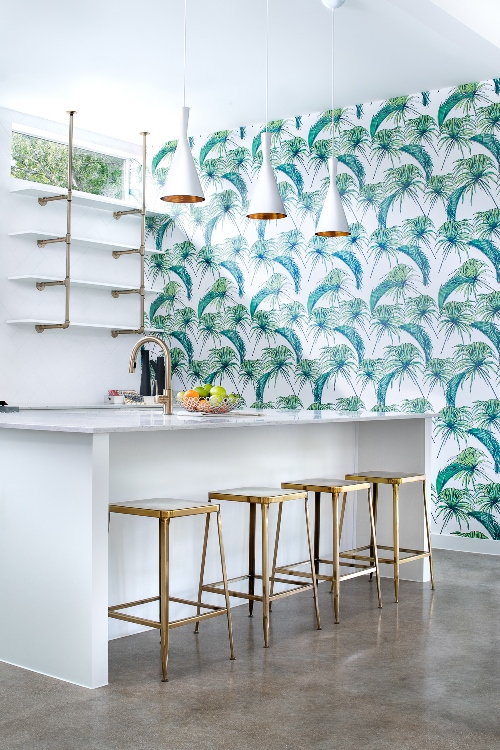 Photo from clarkrichardson.com
Tropical wallpaper palette. How to complement the interior with a tropical pattern
The color spectrum of tropical wallpapers is very wide. Sand, terracotta, beige, yellow, green, blue and blue shades are considered predominant. Using such color schemes, you can convey the atmosphere of the tropics.
The tropical gamut is distinguished by its subtleties:
beige with sand - shades of sand;
green - a symbol of rich tropical vegetation;
brown - a shade of wood;
red or terracotta - since the soil is overdried in the tropics, it has a hint of terracotta;
yellow - sunny color.

According to the principles of a stylish and comfortable interior, in the design you can use not only the opposite, but also colors standing next to in the color circle. So, green goes well with yellow. Against the tropical print, brass objects look original and stylish; such a combination will be very useful if you are designing a modern interior, for example, in the Art Deco style.
A bright tropical pattern against a contrasting, black-and-white interior will look very interesting. And it's not even necessary to use black and white in its pure form, play with shades, take some gray tones - the walls, floor and furniture of simple shapes will look especially advantageous, and green accents will add to the interior of life.
Should you use tropical photos in the interior of your home? Yes, if you want to create an atmosphere of eternal vacation. A competent approach can slow down time, its frantic rhythm in which we all live. Pleasant and warm colors proclaim the cult of small pleasures of life, and also encourages us to relax.