Posted by Jere Bradwell on 5th Apr 2020
Wooden wallpapers are often used in various interiors due to their diversity. A lot of shades and textures allows you to choose such a coating for rooms in any style. If you are close to natural motives, and upon returning home you want to plunge into a pleasant atmosphere of tranquility and find peace of mind, feel free to opt for wallpaper with a wood-like pattern.
Grace & Gardenia G65013 Reclaimed Wood Weathered Gray Wallpaper

Wallpaper imitation wood in the interior
Wallpaper with a wood pattern can fit almost any style in the interior, since many of them allow the use of natural materials. Let's see in which rooms and how to use this decoration material.
Colors
Do not think that the choice of wooden Wallpaper is limited to the standard brown shades for this natural material. Today, you can find more original paintings in stores.
For example, beautiful white wood wallpaper will surely refresh the interior and make it more tender. Especially often, such a color of this finishing material is applied in the design of such a popular style as Provence or Shabby chic. To make the ensemble not seem too "cold" and bland, you need to make the appropriate interior items and decor. They can have contrasting or pastel colors that stand out against a snow-white background.
White wood-like wallpaper will look great in the living room with the same light wooden floor, a snow-white sofa and a shelf with shelves and drawers of a milky hue. To dilute such light colors should be a coffee table with a dark brown antique stylized metal lamps with wide shades and brown pedestals attached to it.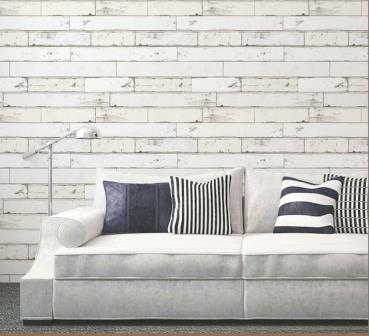 Grace & Gardenia G65011 White Shiplap Wallpaper
Canvases imitating mahogany look elegant and expensive. Such options can be used to create rich and luxurious ensembles.
But it is not recommended to place too dark furniture against the background of such wallpaper, otherwise the ensemble will turn out to be gloomy.
Very elegant, rich and unusual in the interior will look dark chocolate wooden ceiling and the same floor, diluted with walls with wallpaper imitating poorly treated wood of brown and gray shades. In such interiors, laconic light or chocolate furniture, light ottomans and chairs, as well as snow-white curtains on the windows will look best.
Pink wood wallpaper looks soft and soft. Such bright materials will not only refresh the interior, but will also make it more peaceful and welcoming.
Often, such coatings are used to decorate bedrooms or children's rooms, as they have a calming effect on the nervous system and just look attractive.
Furniture in light and pastel colors is recommended to be placed against a background of wooden wallpaper that has a purple hue. Of course, it is necessary to rely on the tone of the canvas. If they are still light and delicate, then you can turn to more solid interior items of dense and dark colors.
Unusual and fresh in many interiors look wooden wallpaper of unusual colors. For example, it can be turquoise canvases with a solid wood texture. This wallpaper can be combined with a light ceiling finish and dark floor. As for furniture, the best solution for such interiors would be tables, racks, sofas and armchairs of a milky color and cream-brulee shade.
If you want to design a room in a non-standard and unusual way, then you should look at the various wall combinations in the interior. For example, the lower part of the walls can be covered with wooden wallpaper, in which narrow boards have different colors (for example, yellow, blue, dark blue, brown and purple), and the upper part is finished with a simple white plaster. Black armchairs, a mint metal floor lamp, a wooden decorative bench and a fluffy brown rug will look great against such an interesting background.
Multi-colored canvases in any interior look interesting and fashionable. For example, in the living room, you can put wallpaper depicting boards in orange, yellow, dark chocolate and white colors. This background will fit snow-white sofas with orange decorative pillows on small metal legs.
Grace & Gardenia G65014 Reclaimed Wood Blue Wallpaper
In the living room
Wood wallpaper is often used in the design of this room. Popularity is associated with the original appearance of the wood finish. If in a country house this design is familiar and looks natural, then in the case of a city apartment, this decision looks bold and unexpected.
The choice of wallpaper that imitates wood is great. They may look different:
like tree bark;
old board;
rough-hewn logs;
branches or full trees.
Such wallpapers can be combined with a floor finished with laminate of a similar shade and a light ceiling. These ensembles perfectly fit sofas and armchairs in classic shades, dark metal lamps and coffee tables made of wood.
It is not necessary to limit yourself to calm natural shades. You can use wooden wallpaper of non-standard colors. This atypical design will appeal to creative natures. Coverings with images of exotic trees will surprise your guests, especially this choice will be appropriate for rooms in the Japanese style.
In a bedroom
Light wood is usually used for the walls in the bedroom. This is due to the fact that most often this room is small, and dark shades visually reduce it even more. So white and beige materials will be appropriate here. Wallpaper under the imitation of a tree of this color can be put over the entire area of the room, but it will look quite boring and inexpressive, so do not forget to add bright decor elements.
Dark shades of wood can also be used in the design of the bedroom, but you need to do it carefully. They shouldn't cover the walls completely, but they can be a great accent. The ideal place for such wallpaper is the area behind the bed. You can make an accent wall by pasting the entire width of the wall, or you can make a small area exclusively behind the bed.
This option of decoration will look especially effective if the bedroom furniture is of a contrasting color (for example, white). It is also allowed to use such wallpaper as an imitation of a panel, in this case, photo wallpapers are usually used. A fashionable solution is a mosaic made of wood materials, it is also able to add grace to a calm environment.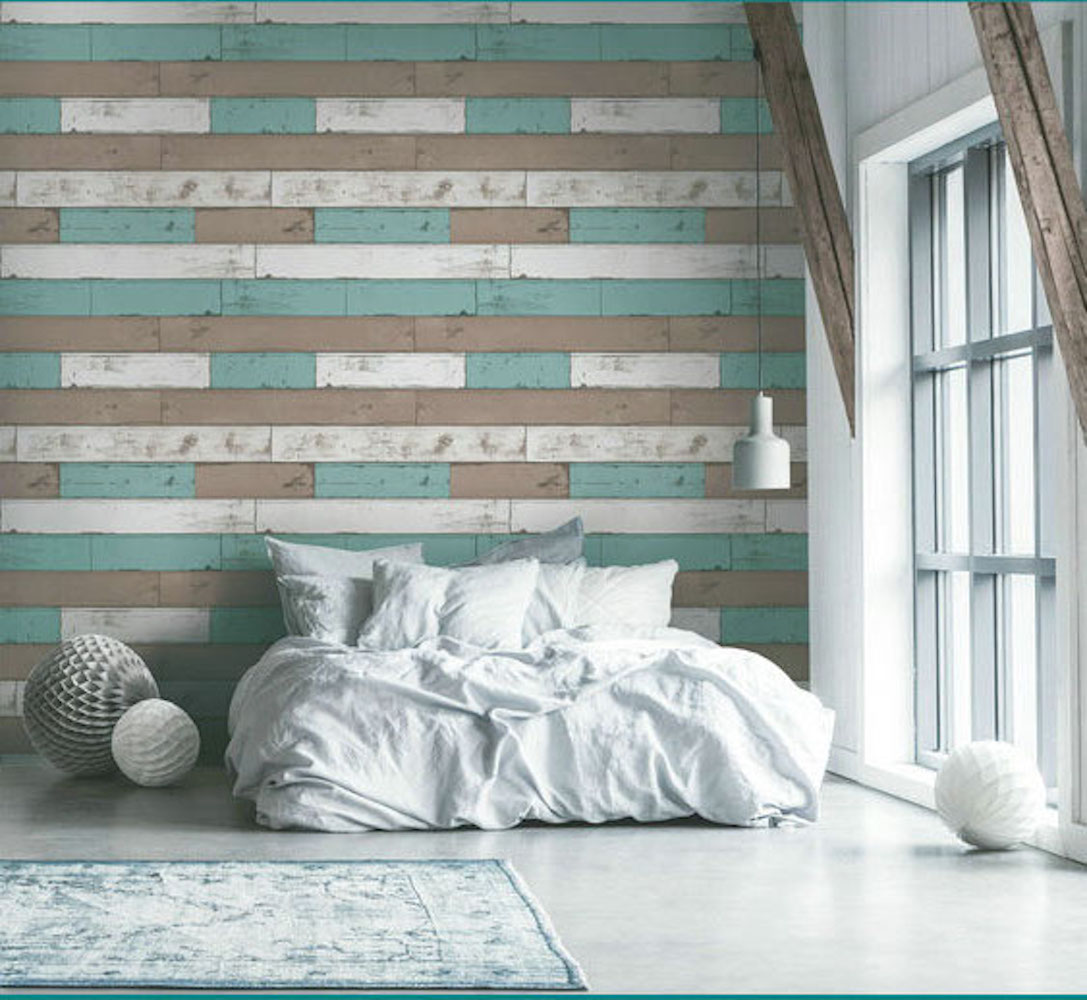 Grace & Gardenia G65016 Reclaimed Wood Turquoise / Gray Wallpaper
In a kitchen
Wood wallpaper for a kitchen is a wonderful solution for fans of this natural material. Washable wallpaper on a non-woven basis will be most appropriate here.
In the working area, wallpapers for the kitchen will look good, depicting not a single coating, but only elements of wood. They are easy to combine with a kitchen or a set of dining furniture.
You can choose several design options for the dining area. It can be wood wallpaper painted white. Or you can paste the wall at the table with realistic murals. Self-adhesive wallpaper with the image of the boards will be very welcome. Even better if it will resonate with the floor.
In a bathroom
Washable wooden wallpapers look great in a bathroom, especially when combined with white trim on the surrounding walls. For example, these canvases can be pasted over the surface behind the bathroom and cabinets under the sink.