Posted by Jere Bradwell on 15th Feb 2020
If you haven't chosen anything from our new collection Grasscloth Resource, we suggest you to take a look at grasscloth wallpapers from some other collections in our shop:
Kenneth James by Brewster
Kenneth James by Brewster 2732-54752 Salisbury Grey Grasscloth Wallpaper
An intricate grasscloth made of extra fine exotic grass. Beige and off-white fibers are woven over a cool grey background. Salisbury is an unpasted, grasscloth wallpaper.
Kenneth James by Brewster 2732-65409 Yunnan Brown Grasscloth Wallpaper
Kenneth James by Brewster 2732-80047 Mindoro Brown Grasscloth Wallpaper
A tailored grasscloth woven with 100% natural raffia. The warm brown color is welcoming. Mindoro is an unpasted, grasscloth wallpaper.
Kenneth James by Brewster 2732-80007 Fujian Silver Grasscloth Wallpaper
Natural exotic grasses are set against a metallic silver background. A dazzling and statement-making grasscloth. Fujian is an unpasted, grasscloth wallpaper.
Kenneth James by Brewster 2622-30234 Jade Ruslan Grey Grasscloth Wallpaper
This light grey grasscloth is layered atop a pale canvas, lending a slight shimmer to walls. Chic and sophisticated, this green décor option helps you decorate a fabulous home.
Norwall Wallcoverings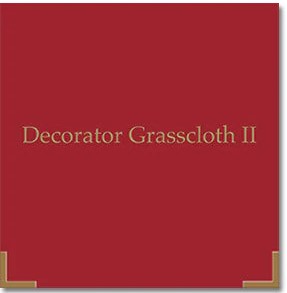 Norwall Wallcoverings 488-403 Decorator Grasscloth II Fine Seagrass Wallpaper
Natural seagrass grasscloth has a great strength to cover any imperfections in your walls. A world class texture that can give your room a new look. A gorgeous and interesting way to add texture to your space.
Norwall Wallcoverings 488-405 Decorator Grasscloth II Fine Buddle Wallpaper
Norwall Wallcoverings 488-433 Decorator Grasscloth II Fine Jute Wallpaper
A wondrous appeal of natural subtle color changes are found in this fine raw jute grasscloth. This adds a rustic or modern and contemporary feel to your home. This world class texture can give your room a textural richness.
Norwall Wallcoverings 488-420 Decorator Grasscloth II Extra Fine Raw Jute with Pearl Wallpaper
A shimmer of pearl combined with extra fine raw jute creates a beauty that is unparalled. This is a great way to add an organic and visual depth with texture. Adds a neutral look with this dimensional grasscloth.
Norwall Concerto Collection WF36302 Grasscloth Wallpaper Grey
Concerto features a collection of designer prints in an in-register heavy weight non-woven vinyl. The influence of champagne bubbles and shimmer in this collection complements each print and its design elements, colours and details. Large scale damasks, florals and scrolls, along with textures, have exquisite detail in the embossing techniques employed. Colours flow and sparkle over each of the opulent wallcoverings that will create an atmosphere of sheer luxury and elegance.
York Wallcoverings
From York Wallcoverings York Designer Series, Candice Olson's Natural Splendor Wallpaper collection takes splendid works of art and turns them into beautiful, innovative wallcoverings.. Handcrafted from natural grasses, this product is woven for a natural effect, has a paper backing, and adds a warm effect to a room..
York Wallcoverings DL2948 Candice Olson Natural Splendor Sylvan Wallpaper Gold/Cream
The enigma of the Orient, the mistique of the tropic and the serenity of the forest are all suggested Candice Olson Sylvan Wallpaper, featuring shadowy shapes of leafy branches cast upon a glistening grasscloth.
York Wallcoverings DL2903 Candice Olson Natural Splendor Marquise Wallpaper Indigo
A large diamond design is embroidered against finely woven organic grasscloth creating the scintillating Candice Olson Marquise Wallpaper.
Read our previous posts about Grasscloth wallpapers specifics and installation.